PRESIDENT JOE BIDEN'S First 100 Days!
When Biden took office, the seven-day rolling average for vaccinations was 777,000 a day, but that number rose under Biden to about 3 million a day. As his 100th day approached, about half of the 16-and-older U.S. population had received at least one dose of vaccine. In addition, more than 80% of seniors had received at least one shot, and 25% of American adults were fully vaccinated.

The American Rescue Plan was a $1.9 trillion bill aimed at both providing additional funding for fighting the pandemic and helping the economy through the resulting recession. The measure included aid to state and local governments, increased unemployment insurance, support for vaccination efforts, education aid, refundable child tax credits and housing assistance.

"Few presidents have passed anything as consequential as the relief package" in their first 100 days, said John J. Pitney Jr., a political scientist at Claremont McKenna College.
"We did it, Joe!" - Kamala Harris
From Wikipedia, the free encyclopedia
Kamala Devi Harris born October 20, 1964) is an American politician and attorney who is the 49th and current vice president of the United States. She is the first female vice president and the highest-ranking female official in U.S. history, as well as the first African American and first Asian American vice president.
A member of the Democratic Party, she served as a United States senator from California from 2017 to 2021, and as the attorney general of California from 2011 to 2017. Harris became vice president upon inauguration in January 2021 alongside President Joe Biden, having defeated the incumbent president, Donald Trump, and vice president, Mike Pence, in the 2020 election.
Born in Oakland, California, Harris graduated from Howard University and the University of California, Hastings College of the Law. She began her career in the Alameda County District Attorney's Office, before being recruited to the San Francisco District Attorney's Office and later the City Attorney of San Francisco's office. In 2003, she was elected district attorney of San Francisco. She was elected Attorney General of California in 2010 and re-elected in 2014. Harris served as the junior United States senator from California from 2017 to 2021. Harris defeated Loretta Sanchez in the 2016 Senate election to become the second African American woman and the first South Asian American to serve in the United States Senate.
As a senator, she advocated for healthcare reform, federal de-scheduling of cannabis, a path to citizenship for undocumented immigrants, the DREAM Act, a ban on assault weapons, and progressive tax reform. She gained a national profile for her pointed questioning of Trump administration officials during Senate hearings, including Trump's second Supreme Court nominee Brett Kavanaugh, who was accused of sexual assault.
Harris sought the 2020 Democratic presidential nomination, but withdrew from the race prior to the primaries. Biden selected her as his running mate in August 2020, and their ticket went on to win the general election in November. She assumed office as vice president of the United States on January 20, 2021.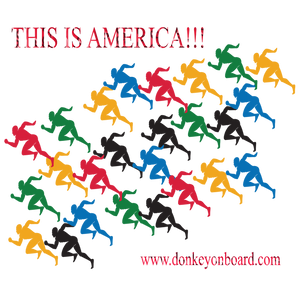 SPREAD THE WORD!
Donkey on Board is your one-stop shop for all things Democrat – wearable, sharable souvenirs that celebrate this unique moment in American history.  Our range of branded hoodies, prints and accessories are lovingly created to mark a turning point in our country's history.  Best of all, the entire range is certifiably 'Malarkey Free'.
Donkey on board has created a range of clothing, prints and accessories designed by celebrated Beverly Hills photographer Julian Starks.  Featuring the flag-adorned donkey of the Democratic Party, the Biden-Harris campaign logo and other unique designs celebrating the win, these quality souvenirs will help you mark history in comfort and style.
OUR BRAND
Hoodies, t-shirts, and polo shirts are available with multiple designs in a wide range of colors and sizes. Donkey on Board's unique and timeless style beats a MAGA hat hands-down!
On our collections page, you'll also find mugs, beach towels, tote bags, phone cases, shower curtains and more.  Check out our multicolored "This is America" design celebrating diversity and aspiration, as a pack of runners stand poised for the starting gun.  At Donkey on Board, there's something for every pocket and every taste, produced with quality and durability in mind.  And yes, we have a kids' range too!
Decorate your den with prints featuring the symbols of our democracy including beautifully photographed shots of the Capitol, Lincoln Memorial, White House, and the Statue of Liberty.  We've also got replica prints of the declarations of independence overlaid with classic American symbols.
Our ready-framed prints also commemorate some of Biden's choice quotes, including the famous "It's a Bunch of Malarkey" and his devastating (and accurate) Smack-Down "You're the Worst President our Country has ever had".  Ouch!  
Here's a deal for you. If you decide to become a brand ambassador for Donkey on Board, we'll give you a unique promo code you can share with your friends.  They'll get 5% off all products and you'll win a generous 10% commission on all sales made under that code.  Just click hereto join the Donkey on Board cause.